North of Ken Pratt Blvd (Hwy 119), west of Hwy 287 (Main St.), south of 3rd St., east of railroad / Gay St.
Total for today :   25,000 steps and  5:12 time.  (estimating steps…. pedometer failed)
This includes areas that were hit pretty bad by the September flooding.
ALONG THE ST. VRAIN GREENWAY
Brian L. at T&M Automotive does great work at a reasonable price.  His young nephew helped on the clean-up after the flood, and a great photo of him helping appeared in People magazine the week after the flood.  It also often appeared on some of the Denver TV stations newcasts.
I don't know who to credit as the photographer, but here is the photo…
These last 3 flood pictures are from 2nd and Bross.  If you look at my page of pictures from the flooding back in September (September 13),  at the very end you will see some photos from this same spot that you can compare to these.
… but enough of flooding aftermath pictures.  I'm impressed with how well and how quickly the area is recovering.
PRATT PARKWAY OVERPASS
This is the only overpass in Longmont.  I didn't realize there was a plaque at the north end of it telling about it.  I didn't know it was completed just about 5 years before we moved to Longmont.  It's a pretty impressive structure, and it's nice to have as an option when there's a long train going by.
U-HAUL EDUCATION
I've put in a few pictures of U-Haul truck over the year.  I like their idea of high-lighting an interesting fact about each state.  It's educational and also makes the truck more attractive.
The first one depicts the Belzoni, Mississippi Catfish Festival.   I had never heard of Belzoni before… apparently it's a pretty small town… but it knows catfish!!
Belzoni Catfish Festival 2009 photos (flickr site)
OLD MILL PARK
TERRY STREET BETWEEN FIRST AND SECOND STREETS
This is a dead end area that was apparently a pretty active area at one time, but there's really no reason to go up there at this time.  I know I had never walked or driven there before.  A few years ago some kids got in trouble for starting a fire there, and the buildings are closed off for safety reasons.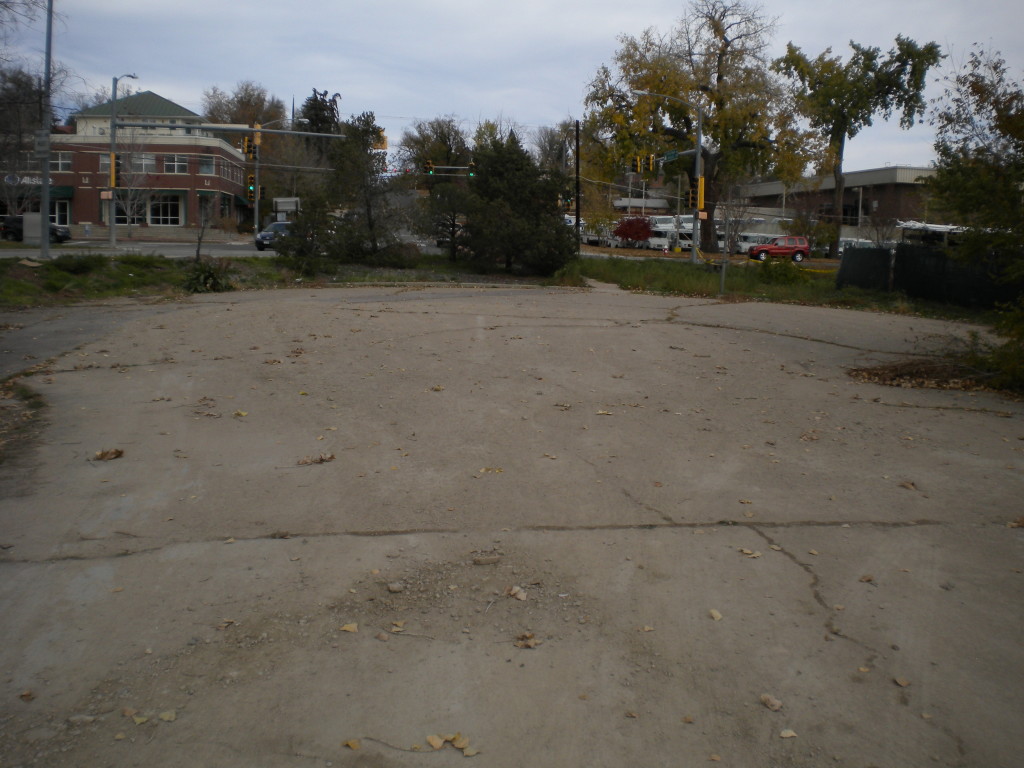 cul-de-sac near 2nd & Terry
CHEESE IMPORTERS
Cheese Importers moved recently.  The new location used to be a city-owned utility building, and also was used as a museum storage area for a while.  I heard a rumor that it was supposedly haunted, with chains clanking late a night.  Don't know if the haunting has passed on to the new owners.  But it has certainly been doing very brisk business lately, with the parking lot overflowing.
The following Monty Python clip is very funny:
Monty Python Cheese Shop youtube
The word Serendipity, meaning 'happy accident' or 'pleasant surprise', comes from an old Persian story "The Three Princes of Serendip"…
The Three Princes of Serendip wiki
THE LAST OF THE HALLOWEEN DECORATIONS
The remaining photos will be split up into residential photos and business photos…
RESIDENTIAL
BUSINESSES  (there's a lot more picture, so skip them if not interested….)