Area covered today — North of 17th, East of RR tracks, South of 21st, West of Alpine
New Year's Day!    Time to start my walking resolution.  Jennifer & I didn't stay up too much after midnight last night, so I'm up at a reasonable hour.  What would be a good area to start my year's worth of walking?   I chose my old Stoney Ridge neighborhood, where we lived from 1984 to 1997.  It's less than a half mile walk from where I live now, so it will be relatively easy start.
I wanted to watch the Nebraska-Georgia bowl game today… it started at 11:00.  When Nebraska was down 9 to zip fairly early in the game, I decided to Tivo the rest of it, and set off.
I crossed 17th on Alpine after a few minutes, and then officially started my walking for the day going northwest on Sunlight Drive.  Just a few houses in, I saw what appears to be a gecko above a garage door.  It reminded me of our trip to visit our son Nick down in Costa Rica a few years ago.  We spent a few nights in a house with a fairly open-air floor plan, and were entertained by lizards walking straight up the wall and hiding behind pictures on the wall.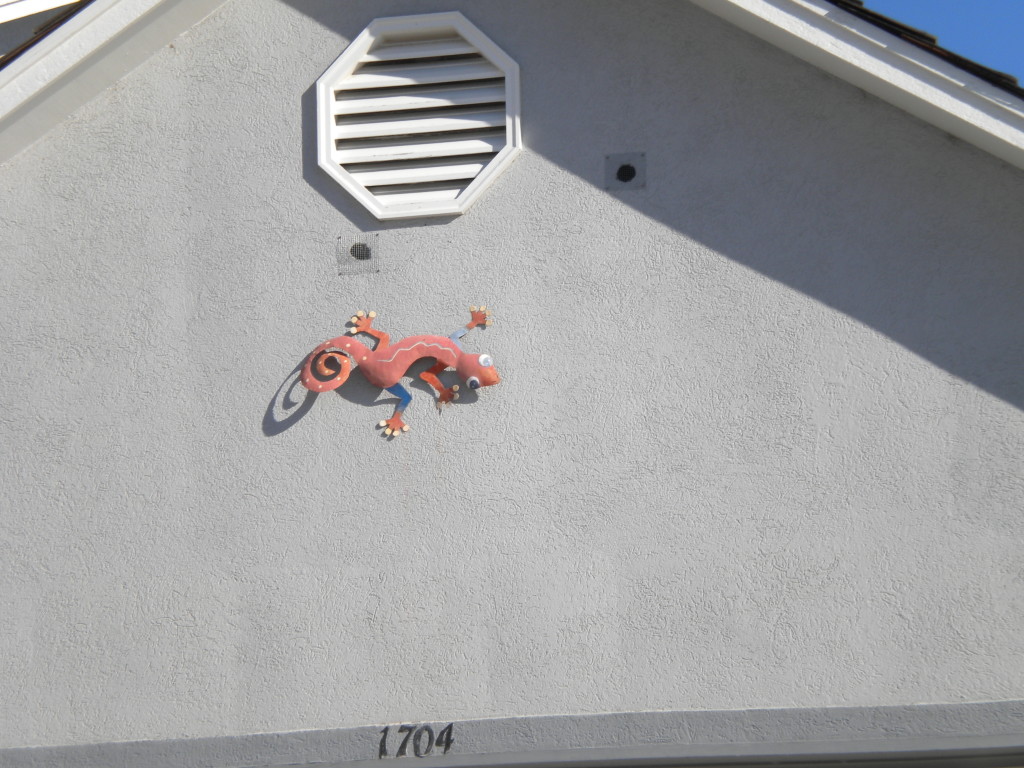 Up at the other end of Sunlight, when it meets with 21st Street, there is a electric transformer substation (is that the right terminology?), with huge rust-colored power poles.  The Times-Call had complaints about the appearance of these all along 21st St.  I'll admit they aren't exactly beautiful, but they don't bother me much.  They do, however, remind me of the power lines in the movie 'Neighbors', in my opinion an under-appreciated comedy with John Belushi and Dan Aykroyd.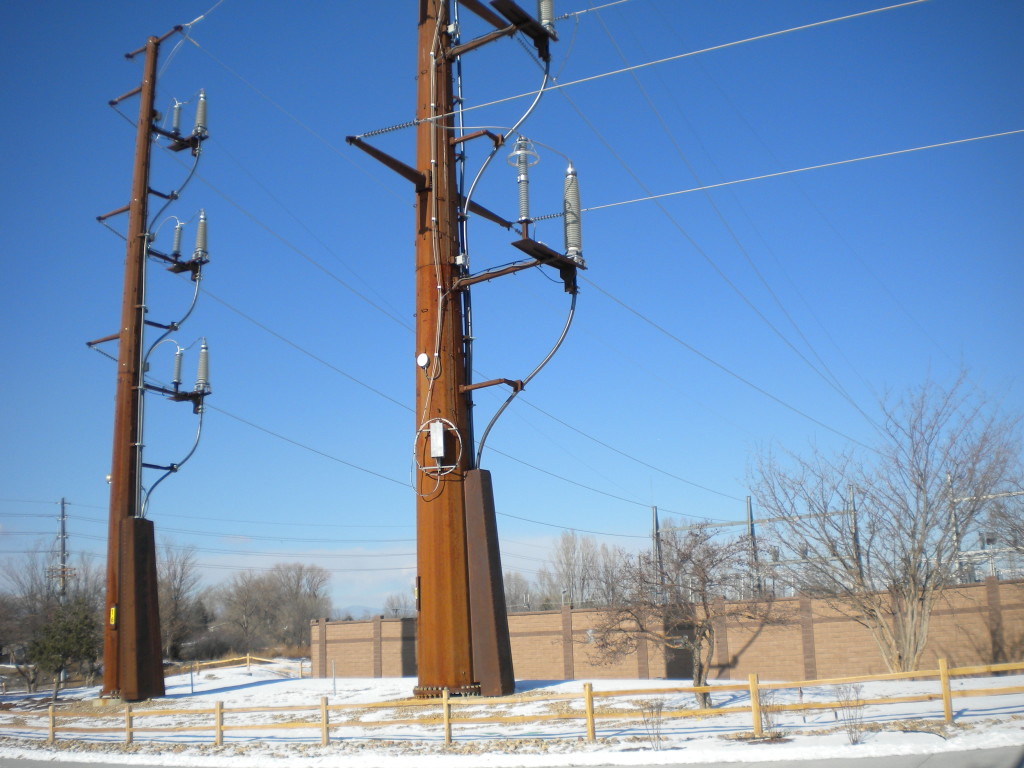 Soon thereafter I decided I should put in a picture of a yard Christmas decoration.  Most of them are already in the process of being taken down, but this one looked cute.  Presumably next December, when I'm nearing the end my year's walking, I will have a lot more pictures of some notable Christmas exhibits.
Long's Peak peeking out (or should it be peaking out?).  I'm not sure, but I think Red Cloud Road may be one of the highest points in Longmont.    Anyway, there are some very pretty vistas along here.
I've got to include a picture of our home we lived in for 13 years, where we basically raised our three kids.  Many fond memories here.
I believe the Stoney Ridge subdivision at one time all belonged to the Yeager family farm.  This stone shed is about all that's left to remind us of that heritage.
One of my favorite books as a young boy was 'A Journey to the Center of the Earth', by Jules Verne.   In that novel, the way to the center of the earth was through descending into the dormant Mt.  Snaefells volcano in Iceland.  The Colorado version of this volcano is Mt. Sneffels, located just a few miles from Ouray, and is one of Colorado's 50-some 14,000+ foot-high peaks.
Journey to the Center of the Earth wiki
I'm just about to the end of my day's walk now.  Having walked all over neighborhoods I'm somewhat familiar with, I finish with two streets I have never been down before, Bristol and Ashford.  They are relatively new additions, having come in about the same time as Ute Creek Golf Course and Alpine Elementary School.  Bristol Court would be a great place to live if you had young kids;  easy walking distance to the school.  Maybe some really smart kids; one house had 3 cool stars above the garage.  Maybe their kids are so smart the gold stars on their homework aren't enough!
When I see Bristol, I think of Bristol Palin, Sarah Palin's oldest daughter, who came to some fame in the last few years on Dancing with the Stars (and I think  maybe her own reality show?).  And I believe she was named after Bristol Bay in Alaska, located off the Bering Sea right above the Aleutian Islands.  As a total aside, it also brings to mind an 1990′s TV show which I never watched — 'The Adventures of Brisco County, Jr.'    I know nothing about it, but wondered how a 'county' could have adventures, or have a son.  Looking it up on Wikipedia, I see Brisco County, Jr  is actually the  name of the main character on the show,  played by Bruce Campbell (of Evil Dead fame — also a cameo in the Sam Raimi Spiderman movies).  It turns out it's a Western/Scifi mash-up comedy that only lasted for 27 episodes.   But I looked on Amazon.com, and it received remarkably high reviews there.  Kinda makes me want to watch it.
Well, that it for today.  Weather was nice for a New Year's Day.. about 20 to 25 degrees, with neglible wind chill.  Sun was out, so may have got a little sunburnt.  May have to start putting sun block on for these walks.
Got home and watched the rest of the Nebraska bowl game.  They made a nice come-back, even took the lead for a while, but eventually lost by two touchdowns.  Oh, well… still not a bad season.
Totals for today :  2 hours and 28 minutes, 12,770 steps.  I'll try to keep track of total time spend and total steps for the year, maybe posting it on a weekly or monthly basis.