North of 3rd, west of Martin, south of 6th, east of Main.
Total for today (part 1) :   20,110 steps and  3:56 time.  Grand total for both parts of today's walk:  32,670 steps and 6:11 time.
This is my first walk after the flooding started (see prior blog Digression — Longmont Flood if somehow you haven't heard about it!)   I wanted to stay on the north side of town, to avoid having to cross any flooded areas, but wanted to see what effect I could see to the south.  As it turns out, there were only three things I saw that gave me any indication of any flooding problems.   The obvious one is the southwest corner of today's walk, at 3rd and Main.  Main Street was still closed south of that intersection. The St. Vrain crosses Main St. (also known as highway 287) maybe a quarter mile south of there.
The other two things were more helicopters going overhead than usual, and heavier traffic on 3rd Avenue than usual.  I saw maybe half a dozen helicopters during my walk… they all seemed to be headed north, maybe toward Loveland or Ft. Collins, which were experiencing flooding problems.    Vehicle traffic on 3rd at Martin was backed up about a block or two when the light turned red.  Presumably this is because of people that would normally go up Main or Sunset would have to circle around to Ken Pratt east and then come back in on 3rd (or vice versa).
ST. STEPHEN'S CHURCH / PLAZA
As the plaque below indicates, the old St. Stephen's church is the oldest church building still standing in Longmont, built in 1881.   The St. Vrain Historical Society now operates it, and there is a park with artwork in the plaza around it.  On the sidewalk out front is an embedded plaque showing the layout for early Longmont.
VARIOUS BUSINESSES / CIVIC BUILDINGS / CHURCHES IN THE AREA
BUSINESSES
CIVIC BUILDINGS
CHURCHES
AND HERE'S THE BEST OF THE REST…  (55 more, to be exact)
(and once again, sorry if I'm inundating you with pictures… it's just that these older parts of town have so much to interest me…  but I won't be insulted if you skip them.)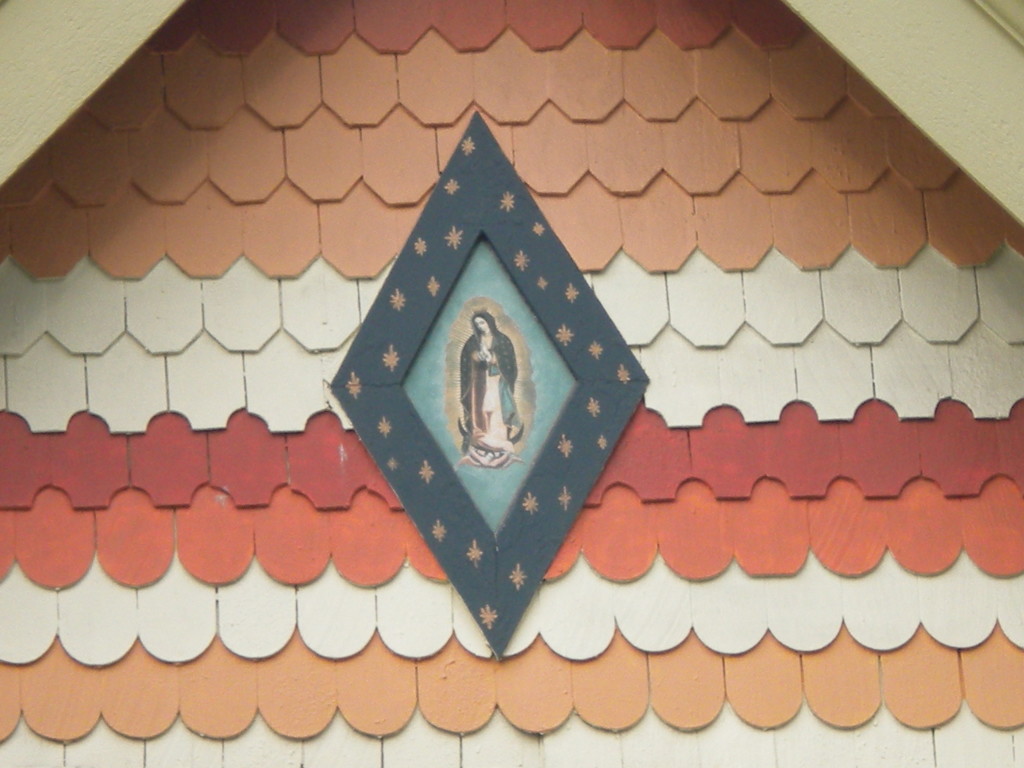 Mary in the eaves